Jaisalmer is the top tourist destination of Rajasthan and it has many alluring forts and temples built by Rajput rulers. Jaisalmer Fort built by Raja Rawal Jaisal is the only fort in India where people still live. To travel inside the fort during night feels like you are in a movie. This fort is the major attraction of Jaisalmer crafted out of charming yellow sandstones. This fort attracts large number of Jain people due to a Jain Temple of rich architectural value.
Jaisalmer houses a huge garden called Bada Bagh where Royal families were cremated. Sunrise and sunset of this place are worth capturing. Patwon-Ki-Haveli is the mind blowing combination of five havelis erected by a very well known trader of those times named Guman Chand for his sons. This five-storied complex showcases the peculiar art form which leaves you with your eyes wide open.
The hub of iconic photography, Jaisalmer is as pretty as a picture. The mesmerizing Gadisar Lake was the major source of water in the ancient period and today it offers a lovely boating experience. The banks of this lake are designed by beautiful temples and Chhatris. If you want to know the history behind Great Indian Desert (Thar Desert), you will feel amazed in Thar Heritage Museum. You will be totally soaked up into its history with the help of finest paintings and artifacts. Salim Singh Ki Haveli famous for its peacock shaped roof is an astounding tourist place and is of great historical value. On the other side, Nathmal Ki Haveli represents the alluring blend of Islamic and Rajputana architectures and is one of the most captivating havelis of Jaisalmer. The Sun City has a popular haunted place known as Kuldhara which was once a much flourished town. But today it is a barren deserted land. Few adventuresome tourists also make their way to Kuldhara if they are touring in Jaisalmer. If you happen to be in this city, these are the top sightseeing places you can explore.
We mostly encounter sunset behind mountains, trees, clouds and sea. But sunset in desert is magical. If you want to be the part of this magic, Sam Sand Dunes of Jaisalmer is the perfect desert dune site in India.
Camping in Jaisalmer is a getaway to understand the rich culture of Rajasthan. The Balancing art of Matka Dance of Rajasthani Women is incredible. Men blowing fire from mouth is thrilling. The adventure activities such as Hot Air Ballooning, Parasailing, Jeep Safari, Camel Safari are the best way to take the greatest memory back home.
Dangri Desert Safari Camp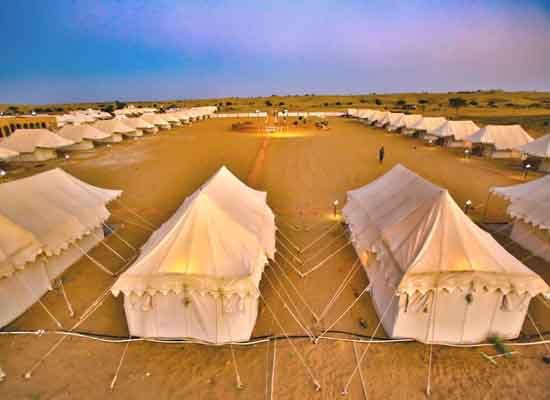 Dangri Desert Safari Camp is one of the best luxury camps in Jaisalmer at Sam Sand Dune area. It has in-house restaurants and 45 luxury tents with adventure activities like Jeep Safari, Camel Safari and Night Safari.
Desert Getaway Resort
Desert Getaway Resort provides you an awesome location nearby Sam Village. It has superb amenities. Tourist enjoys its evening cultural entertainment.
You can also spend a lovely night under stars at Rojani Resorts.
Payal Safari Camp
Payal Safari Camp located 40 km away from Jaisalmer in the exotic Sam Sand Dunes provides luxury tented accommodation with open air multi cuisine restaurant, travel counter and taxi services, Gala dinner and traditional cultural night with music and dance.
Country Side Resort Camp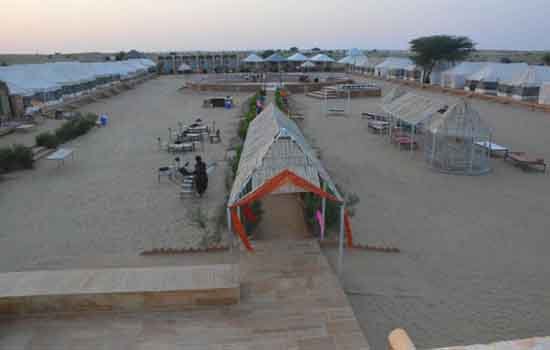 Country Side Resort Camp offers best Swiss camp and Swiss cottages with desert Safari in the vast deserted land and cultural nights comprising of Rajasthani Culture, tradition and folklore.
Limra Desert Camp
Limra Desert Camp plays a vital role in the desert conservation. It allures its visitors with Desert Safari, Camel & Jeep Safari, Sightseeing Tours and Musical Program.
Joggan Jaisalmer Camp
With Joggan Jaisalmer Camp, you get luxurious experience of Thar. This camp offers Camel Safari, Desert Jeep Dune Bashing, Quad Biking, Cultural Walk, Royal Tours, Museum & Fossil Tours, Khabha Tour, Temple Tour, Longewala Border Visit, Desert Broadway Safari with dinner and Vibrant Festival Celebrations.
Mehar adventure Safari Camps
Mehar adventure Safari Camps provide Swiss tents for night stay, Camel Safari, Folk Music and Dance, Camp Fire, Dinner and Breakfast.
Winds Desert Camp
Winds Desert Camp operates during the month of September to March and offers Swiss tents.
Desert Dream Royal Camp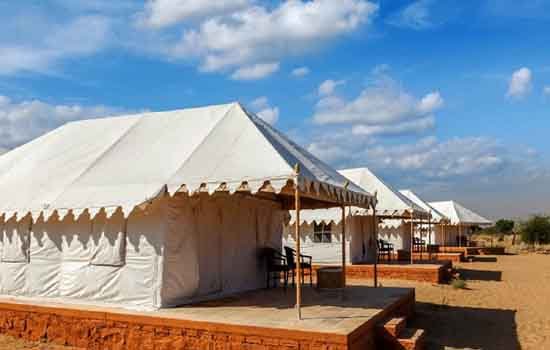 Desert Dream Royal Camp meets all your satisfaction with the amenities like Comfortable Bed, Power Backup, Sit Out Verandah, Attached Toilet, Hot and Cold Water, 24 Hours Room Service, STD/ISD Facilities and Wi-Fi Facility.
Star Desert Camp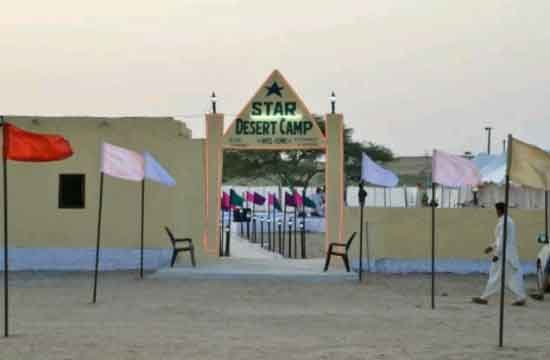 Star Desert Camp offers Luxury Stay, Camel Safari, Jeep Safari, Cultural Night, Adventure Tours and Village Safari.
Prince Desert Camp
Prince Desert Camp is the perfect place to escape. They provide Maharana Style Bedroom with the toilet facilities and 24 hours active water and electricity. You get a feel of Ethnic Rajasthan here.
Oasis India Camps
Oasis India Camps is a firm that organizes 'Living with Nature' camps in scenic and serene locations which celebrates festivals of India and holidays.
Safari Nights Resort
Safari Nights Resorts, Mikarai Desert Safari Camp, Dalmas Desert Camp, The Chirag Desert Camp, Dynasty Desert Camps are  Jaisalmer camps which also offers unforgettable camping experience.
Sky Desert Safari
Sky Desert Safari with 20 luxury air fan tents has contemporary interiors which give you an amazing feeling of being in Rajasthan.
Desert Adventure Camps
Desert Adventure Camps and Desert Safari Experts are also recommended camps in Jaisalmer.
As Brazilian Author of The Alchemist quoted,
"The Desert is a capricious lady and sometimes she drives men crazy."
So head towards Jaisalmer and allow it to drive you crazy with its countless activities in the wilderness of Thar Desert.
Ananta Group Pvt. Ltd. Plot No.2 1st Floor, street No.7 A Block West Sant Nagar Burari Landmark- Rani Public School Delhi- 110084 Email id – info@anantagroup.com Mobile no – +91-9999044632 , +91-9899537060