DUBAI – THE LAND OF MAN-MADE ISLANDS
The terra firma of the world's first and only seven star hotels in the world and one of the Emirates of United Arab Emirates in Western Asia is Dubai ruled by its Emir (ruler) Sheikh Mohammad Bin Rashid Al Maktoum who is a great philanthropist and had taken Dubai to global standards. Reported as the safest place in the world, Dubai had been visited by more than 14 million international overnight tourists last year. Being a barren land of deserts in the beginning and people surviving via fishing and fading pearl industry started growing rapidly after the discovery of oil in 1966. The city with tallest skyscrapers houses large number of Indians. The people of Dubai known as Emiratis are known to be famous for their generosity. It has numerous spectacular places to visit. Let's have a look at them.
PLACES TO VISIT IN DUBAI
Burj Khalifa
The world's tallest building Burj Khalifa is the most breathtaking tourist attraction in Dubai. It has more than 160 stories which is the highest number of stories in the world. Designed by the notable American architect Adrian Smith who has won over 125 architect awards, this skyscraper is based on a regional desert flower, Hymenocallis of harmonious structure. There are three sky lobbies offering spas, pools, outdoor sundecks, gyms and juice bars. The view from its observation decks is amazing and on foggy mornings, you will feel like you are surrounded by clouds. It has world's highest library too. So for bookworms, it is a must see place. It also houses the world's highest restaurant. Traditional 'abra' rides across Burj Lake is a customary way of transport and it gives the visitors an opportunity to view Dubai fountain. Eco-friendly park of Burj Khalifa is also remarkable. This tallest building of 828 meters is the proud of Dubai.
Jumeirah Mosque
Launched in 1975, it is one of the most photographed mosques of Dubai. It is made up of white stones towering twin minarets mounting a large central dome. It is the only mosque in Dubai where non-Muslim guests can visit. Women must wear scarf. It gives all its visitors a chance to learn about the five pillars of Islam, to see how Muslim worship and why some of the Muslim women wear Abayas and Hijab. Jumeirah mosque is one of the beautiful sacred places of Dubai.
Palm Islands
The peculiar man-made islands in the bright green waters of Arabian Gulf namely Palm Jumeirah, Deira Island and Palm Jebel Ali are called Palm Islands. It is still an ongoing engineering project as only Palm Jumeirah has been completed yet and it took ten years of construction. Announced as the eighth wonder of the world, Palm Jumeirah which looks like a palm tree from above has a lot to allure you. At first the monorail comes, which takes you to the gateway of Palm Jumeirah. There are other places like top theme park Aquaventure water park, remarkable palm islands villas, The Atlantis and The Lost Chambers Aquarium.
Dubai Marina
Dubai Marina is an entirely man-made marina which is known as 'New Dubai' and it is popular due to its unique waterfront, high-rise buildings, cafes & restaurants to entertain you, world's largest single phase residential community JBR or Jumeirah Beach Residence and many more. It is one of the Emirates with dense westerners.
Burj Al Arab
The first and only seven star hotel in Dubai with all the luxurious attractions is a place to visit once in a lifetime. The sail-shaped silhouette built on a triangular man-made island rises 321 meters above the sea. It includes an underwater aquarium restaurant where you can reach through simulated submarine voyage. The famous helipad has been accompanied as a shooting location of various celebrity stunts.
ART & CULTURE OF DUBAI
Dubai has wide range of different nationalities and have immersed as a cosmopolitan country with cosmopolitan culture. The country follows Islam as a major religion and so it influences on many aspects of culture like music, architecture, attire, cuisine and lifestyle. The people of Dubai are called Emiratis and they are very generous. They wear traditional dress such as 'Kandura', an ankle- length shirt which is either woolen or cotton. Women wear an 'abaya', a black over-garment covering almost all parts of the body. The official language of Dubai is 'Arabic', but you will see most of the people speaking English. The national dish of Dubai is 'Khuzi' made from whole roasted lamb or mutton.
The Emiratis celebrates their every festival with traditional folk dance and music. The traditionally used musical instruments are drums and tambourines. It also includes Nay which is a long-end blown flute, the Rababah which is a fiddle played with a horse hair bow and the Tambura which is long-necked plucked lute. The people of Dubai dance to express joy. Their traditional dances are known as Ayyalah, Liwa and Haban.
TOURIST DESTINATIONS IN DUBAI
Bastakia (Old Dubai)
Built in 19th century the Bastakia Quarter in Bur Dubai is the beautiful heritage site of the city. It houses many restored buildings with wind towers acting as a form of air-conditioning at those early periods. There are some private homes and few of them are opened to public. That includes Sheikh Mohammad Centre for Cultural Understanding, Dubai Museum, Arabian Tea House, Majlis Gallery, Ostra and XVA Galleries.
Deira
Deira is a developed place having its historical roots and that's make its visitors feel spiritual and intellectual. You can enjoy spending time in Deira city centre shopping mall. An award-winning spa known as YHI Spa out here possesses prestigious products to rejuvenate your skin and nourish your hair and nails. The dolphin lovers have a best place to enjoy their free time here in Dubai Dolphinarium which is an action packed show.
Jumeirah
The coastal residential area of Dubai divided into three parts namely Jumeirah 1, Jumeirah 2 and Jumeirah 3 comprises of low rise private houses. It has become the major area for the residence of western people. It has some of the best places to visit like Madinat Jumeirah which is a contemporary interpretation of traditional Arab village, the only mosque for non-muslim comers, the Jumeirah Mosque is spectacular. Beautiful Dubai Walls and Kite beach are just amazing places to leave your footprints.
POINT OF INTEREST AT DUBAI
Dubai Miracle Garden
The home of approximately 100 million blooming flowers, Dubai Miracle Garden provides the state of the art services and facilities. This beautiful funfilled garden has much to make your day. This season numbered six has brought Butterfly Garden which is a round shaped 3d garden with 9 domes each filled with colors. There is an awestruck souvenir shop available to buy gifts for your friends and family. This garden has such surprises season by season.
IMG World of Adventure
Dubai's first mega themed entertainment destination, IMG World of Adventure with state-of –the –art-thrilled-rides with five themed zones, one of them including Powerpuff Girls. It includes adrenaline – pumping roller coaster like Thor Thunder Spin, The Velociraptor or The Haunted Hotel. Catch a live show here.
Global Village
Global Village as the name indicates features 75 cultural experience zones represented through 27 unique pavilions. Every traveler feels as if they are in touch of different cultures from every corner of the world in one destination. This is a must visit place popular for hanging around, partying, shopping and for celebrating festivals. Dress modestly to visit here.
Dubai Creek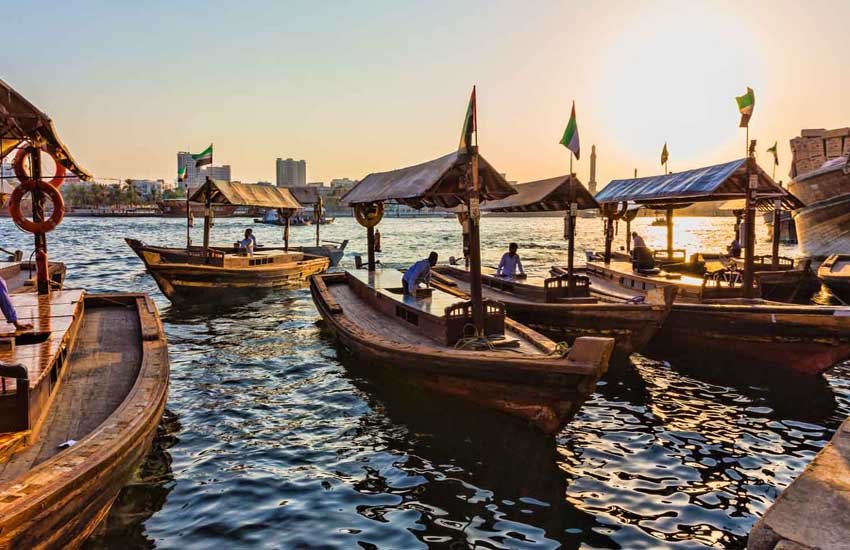 Wanna ride in 'Dhows'? Well you are not even aware of what that word means. Well Dhow is a lateen-rigged ship with one or two masts and it is mostly used in Dubai Creek, a saltwater creek in Dubai. This beautiful ship attracts the tourist to Dubai Greek. You will be overwhelmed with joy when you will view the wonderful night of Dubai from this traditional dhow cruise ride.
THINGS TO DO IN DUBAI
Have an amazing 360º view of the city of skyscrapers from the observation deck of Burj Khalifa
Take a deep breath while walking through Spice Souk, the spice market in Deira.
Ask your questions in the question and answer session in Jumeirah Mosque which is the only chance for non-muslim to ask in the mosque.
Take the fastest roller coaster ride in The Velociraptor at IMG World of Adventure.
Buy gold from Gold Souk, the gold market in Deira.
Take  traditional Dhow cruise ride.
Enjoy camel desert safari.
You must try the popular fast food of Dubai which is called Shawarma. It is a kind of spicy meat served in a wrap. It is delicious and cheap.
Ananta Group Pvt. Ltd. Plot No.2 1st Floor, street No.7 A Block West Sant Nagar Burari Landmark- Rani Public School Delhi- 110084 Email id – info@anantagroup.com Mobile no – +91-9999044632 , +91-9899537060