Damdama Lake Gurgaon
Damdama Lake is Famous Day Picnic Spot in Gurgaon
Damdama Lake is a renowned natural tank of water in Gurgaon district of the North Indian State of Haryana. Today, it has become the synonym of enjoyment for people of Delhi NCR. Be it families, friends, colleagues or couples, it lures visitors of every age. The major reason behind Damdama Lake to be very popular among people of Delhi NCR (especially who belongs to Gurgaon, Delhi, Noida, Ghaziabad, and Faridabad) is that it is located within a short distance of 50-60 KM away from them. As a result, it hardly takes two hours to arrive at this fun-filled spot from cities of Delhi NCR. But distance alone is not only the reason. It is mostly visited due to its heart-warming natural settings as well as man-made settings.
Being one of the largest water reservoirs in Haryana, the lake itself is the major attraction overlooked by the Aravali hills and boating is the icing on the cake. Feeling the fresh air on your face while boating is the peaceful activity one can enjoy in Damdama Lake. It is also an abode to several species of birds. Therefore it is a perfect place for nature and wildlife lovers and is loved by photo fanatics too.
Lying on Gurgaon-Alwar Highway and known as Greater Gurugram, Sohna is a city and the getaway to Damdama Lake. Only a distance of 12 KM from Sohna Road connects you to your destination which holds the countless number of charming resorts within its boundary to assist you. Most of the resorts are the best day Picnic Spots in Gurgaon with a number of enthralling activities. You can book any of Damdama Lake Resort Package before you make a visit. There are numberless exciting things to do in Damdama Lake. The responsibility of throwing all the fun at you is best handled by the staffs of resorts. So it is crucial to look for a good resort where you can spend the entire day doing what you love.
Before giving you a brief insight of top rated Damdama Lake Resorts, read the basic and useful information of Damdama Lake below.
Information About Damdama Lake
Famous for – Picnic Spot and Adventure Sport
Type of Destination – Day-Outing
Landmark – Near Sohna Road
District – Gurgaon/Gurugram
State – Haryana
Highway – Gurgaon-Alwar Highway
Weather – 26ºC
Best time to visit – August to February
How did Damdama Lake evolve?
The evolution of Damdama Lake dates back to 1947. An earthen dam was established by the British in order to store the rainwater. As a result, Damdama Lake was formed covering an area of 3000 acres or 12 square kilometers making it one of the biggest lakes in the entire state of Haryana. Today, this lake has become an ideal retreat and attracts a large number of visitors throughout the year. Littered with countless day picnic resorts offering tons of activities, it is also counted as one of the best picnic spots near Delhi and Gurgaon.
How to Reach Damdama Lake, Gurgaon?
As you already know, Damdama Lake is only 12 KM away from Sohna Road, so you need to reach at Sohna Road first.
The nearest airport to Sohna – Indira Gandhi International Airport (DEL), New Delhi
The nearest railway station to Sohna – Gurgaon Railway Station (GGN)
The nearest metro station to Sohna – Huda City Centre (Yellow Line)
Distance of Damdama Lake from Major cities of Delhi NCR
Delhi – 58 KM
Gurgaon – 24 KM
Faridabad -36 KM
Noida – 61 KM
Ghaziabad – 74 KM
Meerut – 122 KM
Things To Do in Damdama Lake
Renowned for being a popular recreational ground, Damdama Lake stores tons of adventure activities such as
Boating either in row boat, paddle boat or motor boat, para sailing to fly in the sky, kayaking to travel across water, rock climbing to flex your passion muscle, valley crossing, camping, Tarzan swing, camel cart ride, tractor ride et cetera. Activities have been mentioned along with every resort given below.
Damdama Lake Resorts
After reading the above mentioned details regarding Damdama Lake, you must be excited to set your foot on this magical place. Here's a list of amazing Damdama Lake Resorts to spend the delightful day picnic.
Location: Village Isaka, Haryana 122 102
Village Masti Resort is one of the best day picnic spots near Delhi. It is expanded in 12 acres of land shrouded in the lovely blanket of nature. It holds all the pleasure to spend an astounding day picnic. It is one of the few resorts which allow families to organize their picnic in their own style. For this, it provides a portion of its land on rent and the families (especially Bengali families who loves cooking) enjoys their picnic by cooking their own style of food.
It has an adorable atmoshphere suitable for meditation, yoga, corporate training, creative task such as painting, writing et cetera. Apart from being a mostly visited day picnic spot, Village Masti Resort is also known for the perfect wedding and shooting venue. As the summer has already arrived, you must enjoy the pool party at this resort too.
The Day Package Includes
Welcome Drinks
Vegetable snacks
Buffet Lunch (Both Veg and Non-Veg)
Hot beverages during evening with snacks
Adventure Activities

Indoor Activities – Carom, Chess
Outdoor Activities – Volleyball, Badminton, Cricket
Ethnic Activities – Lattoo, Gulli Danda, Kabaddi, Kho-Kho, Pitho, Kitkit
Water Activities – Swimming Pool, Mud Bath
Rides – Tractor Ride, Camel Cart Ride
Other Activities – Tug of War, Musical Chair, Mutka Phod, Burma Bridge, Suspension Bridge, Commando Net, Balance Walk, Zigzag Walk, Cat Walk, Flying Fox, Tyre Wall Crossing, Skywalk.
Location: Damdama Village, Near Damdama Lake, Haryana 122 102
Botanix Nature Resort as the name refers is truly a heavenly place to spend the most relaxing day. The focal point of this resort is its series of beautifully themed gardens which gives it an angelic look. It is a perfect retreat for families, youth and corporate. For kids, this is a treasure-trove. Along with uncountable fun activities, it also offers camping especially to kids to show them a glimpse of the beauty of Mother Nature.
The day package includes
Arrival Drinks
Buffet Breakfast
Buffet Veg and Non-Veg Lunch
Evening tea
Adventure Activities

For Corporate – Meditation, Cliff-Jump, Trust-Fall, Spider Web, Nature Walk, Rappelling, Burma Bridge
For Youth – Few Youth related programs, Swimming pool, camping
For Family – Same as Corporate.
Location: Damdama Lake, Sohna, Gurgaon, Haryana.
Blue Camp is the best place to experience camping amidst impressive natural setting and is popular among groups of corporate. Your day outing at Blue Camp refreshes you to great amount. For some, it is a place of learning and dealing challenges. The team building activities are designed in a way where people learn to accept challenges and create the bonding with new faces. This is a very good place if you are looking to make new friends and wants to have lots of fun inside tents.
The Day Package Includes
Welcome Drinks
Breakfast
Dinner (Both Veg and Non- Veg)
Evening Barbeque Snacks
Evening tea with snacks
Obstacle park
Rain dance
Music System
Adventure activities

Cricket, volley ball, badminton, archery, dart, football, boat ride, camel cart ride, bullock cart ride, tractor ride
Dream Island Resort
Location: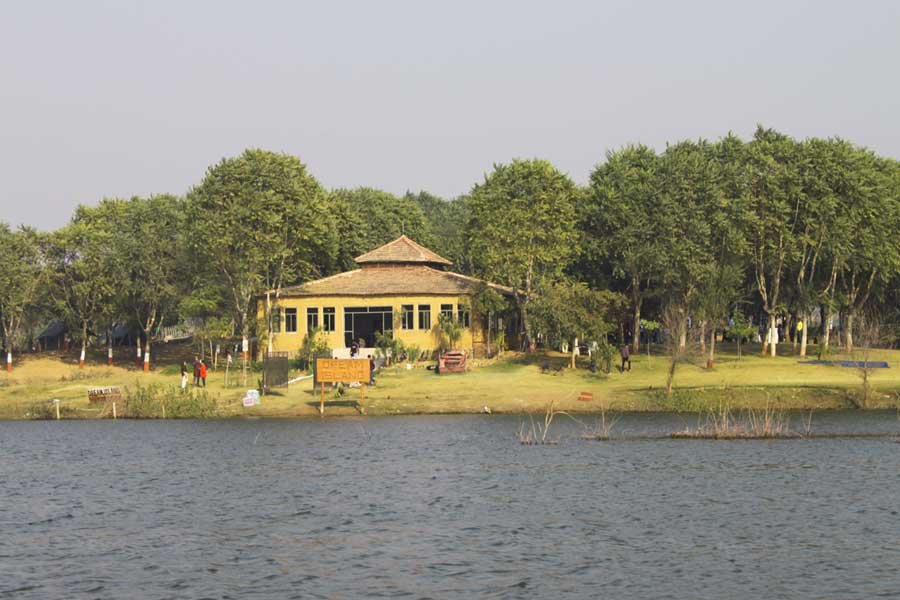 Dream Island Resort is another top day picnic resort to offer unlimited fun in the vicinity of Damdama Lake. You can rejuvenate yourself in its pure atmoshphere. It is a total treasure trove of fun. One must visit here to have a memorable outing.
The day package includes
Transfer by boat to Dream Island
Welcome Drink
Breakfast
Lunch
Evening beverages with snacks
Adventure activities

Zip Line, Free Fall, Burma Bridge, Commando Net, River Crossing, Twine, Balance Walk, Trust Fall, Tarzan Swing, Tyre Crossing, Glider, Boating, Badminton, Cricket, Volley Ball, Bullock Cart, Lattoo, Gulel, Archery, Kanche Goli.
Water Bank Island Resort
Location: Damdama Lake, Sohna, Gurgaon, Haryana 122102
Water Bank Island Resort is a wonderful picnic spot which has dozens of activities. It is also suitable for every group of people. It takes only 45 minutes from Delhi to embark upon this spot. It is flooded by people throughout the year due to its high-class amenities and thrilling activities.
The Day Package Includes
Transfer to the island by boat or jungle trek
Welcome drinks
Buffet lunch
Evening tea with snacks
Adventure activities

Burma Bridge, Spider's Web, Valley Crossing, Rock Climbing, Tug of War, Flying Trapeze, Air Rifle Shooting, Tarzan Swing, Trampoline, Hunt Trek in Aravali, Volley ball, Badminton, Cricket, Tambola etc.
You can make a choice from any of the above mentioned resorts which will surpass your all expectations. Give a break to your mundane life and lose yourself into the arms of nature. Enjoy an special day picnic at Damdama Lake, Gurgaon.
Ananta Group Pvt. Ltd. Plot No.2 1st Floor, street No.7 A Block West Sant Nagar Burari Landmark- Rani Public School Delhi- 110084 Email id – info@anantagroup.com Mobile no – +91-9999044632 , +91-9899537060