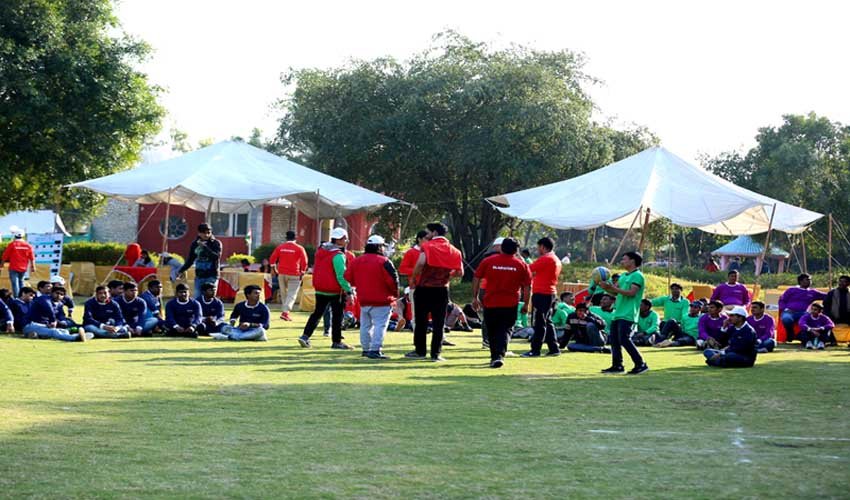 Day Picnic Spots Near Delhi Gurgaon Noida
Picnic Spots Near Delhi Noida Gurgaon Sohna Faridabad
One Day Getaway Spots near Delhi
"HAPPINESS IS LIKE A POTATO,
WHEN SHARED WITH OTHERS IT'S A PICNIC" – Anonymous
What a beautiful line! The exciting word 'Picnic' is always a joy to behold. An escape to a rejuvenating short break in order to have a barrel of fun is what picnic all about. So give yourself some sort of me time and go out for picnic.
There are many outing places in and around Delhi. Whenever you plan for a suitable picnic spots, places near Delhi offer you a wide variety of available options ranging from luxury to economical and cheap. As majority of people use to work six days a week, to make a week long vacations is hardly possible for them. So we have come up with the list of best one day trip which will bring you to the state of euphoria.
ONE DAY GETAWAY SPOTS NEAR DELHI
Making weekend plans is not so easy. There are many more things to do but the biggest task is to find the right destination. Everyone plans a destination that is loved by the kids, preferred by the youth and is convenient to the adults as well. With numerous rehabilitation, adventure, and entertainment activities, the Blowsom Resort Farm fulfills all your desires.
Village Masti Adventure Farm Resort
Village Masti is the best day picnic near Delhi installed in the sleepy village of Gurgaon District known as Isaka. 2 hours drive from Delhi takes you to this lovely 12 acres of land with fresh atmoshphere and a green village like surrounding to make you feel great. It is no lesser than a tourist place in the midst of greenery and most of the visitors quickly indulge in photographing themselves. You get peaceful environment to spend your day at leisure. For adventure seekers of all the age groups, Village Masti has an exciting collection of adventuresome activities and games. The Indian ethnic games like Lattoo, Gulli Danda, Kabaddi, Kho-Kho all reminds the golden old days. The chilling arrival drinks followed by healthy breakfast, buffet veg and non-veg lunch and evening hot coffee/tea along with delicious pakodes is offered to every guest. Whether winter, summer or any season of the year, Village Masti is the best resort to spend fun time with your family and friends. One can also go for sightseeing of this place as it is enclosed by a serene environment with the stunning view of Aravali Hills. It is the perfect short visit for a group of corporate, family, couples and friends.
Packages For Day Outing
INR 1050/ + Taxes Per Person For Adults Per Day
INR 700/ + Taxes Per Kids Per Day
For Group Discount on Outing Call on +918860706060
THE RURAL URBAN VILLAGE GHAZIABAD
People missing their home nuzzled in villages far from the metropolis of Delhi NCR like Noida, Gurgaon, Faridabad, Ghaziabad, Greater Noida, Jhajjar and Bahadurgarh has a place which can give them the feeling of being home. The Rural Urban Village serves as the most friendly picnic spot to make you feel like a child again. Baraka Arifpur of Ghaziabad houses a farm house which is a fantastic blend of rural and urban life. It is known as RurBan Village. The adventure park with full of fun filled activities along with ethnic games, typical Indian cuisine such as Aaloo Poori and Bajra Ki Roti, luxurious mud cottages etc. add beautiful presentation of village life. It is a lovely and adorable place to visit.
As I just mentioned about the attractive resorts and farm houses nearby Damdama Lake, Botanix Nature Resort is one among them. The beautiful gardens tempts the group of ladies to add this resort on their bucket list to celebrate their favorite kitty party. It is a very fun loving place located approx. 57 km from Delhi and Gurgaon/Gurugram is the nearest city. Also for NGOs and Clubs, Botanix Nature Resort satisfies all their wants. The campsite particularly for children and youth allows them to experience nature and learn from it. A nice family bonding time is spent in Botanix Nature Resort.
Group Picnic Packages at Damdama Lake
INR 1250/ + Taxes Per Person For Adults Per Day
INR 1100/ + Taxes Per Kids Per Day
Forget the worries and spend at least one day like a turtle. 45 minutes of traveling from Gurgaon takes you to the coziest outing place of Delhi NCR known as Turtle Farm Resort. Cuddled in Manesar, it is the best option for day-out or day getaways where you get the best resort experience with fine arrangement of all the amenities. As they say 'Come de-stress!' in Turtle Farm Resort, you must visit this place to release all your stress. This place offers a perfect atmoshphere for yoga and meditation and is suitable for all months of the year whether it's January, February or March. Comfortable rooms with rejuvenating swimming pool are attractive.
CAMP WILD DHAUJ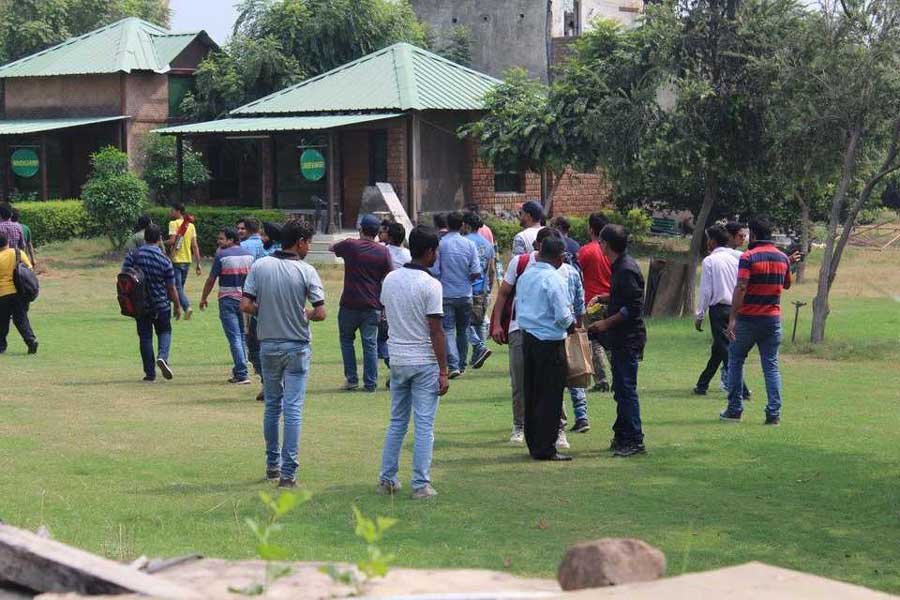 Located in the Mangar Village of Faridabad, Camp Wild Dhauj is the best adventure camp at a distance of approx. 36 km from Gurgaon/Gurugram and 2 hours drive distance from Delhi. Over the time, it has emerged as a perfect place for corporate training due to its team building activities. It is also a favorite place for school and college students as it helps them in understanding their own strengths with the help of difficult yet exciting activities. The male and female alumin also joins in the difficult tasks of this camp. The 12 acres of land lying along the shore of Dhauj Lake with magnificent rocks has made this place so popular that many associations love organize their events here. The eco-lodges and safari tents are spectacular. This place is also good for sightseeing. Spend a breathtaking summer break at this wild fun zone. All the fascinating characters of Camp Wild Dhauj makes it the perfect weekend getaway near Delhi.
Adventure Picnic Packages For Camp Wild Dhauj

INR 1500/ + Taxes Per Person For Adults Per Day
INR 1100/ + Taxes Per Kids Per Day
For Group Discount on Outing Call on +919899537060
The adventurous campsite of Central Delhi just behind the Ramjas Sports Complex of Patel Nagar offer a wide range of thrilling activities to people from all age group. It serves as an ideal summer camp for students. Facing the natural rocks, this is the one and only place in Delhi to be located in the perfect area for exciting activities. Rock climbing is very popular and is done in the guidance of highly skilled individuals. To indulge in all the activites of Camp Sierra is the top thing to do here. Give yourself an exciting day with Camp Sierra.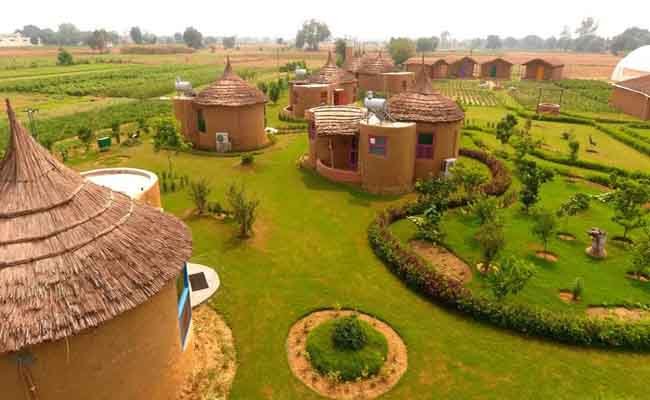 One of the first eco-friendly farm to have the most beautiful and colorful mud cottages and serving as the best picnic spot is Ariisse Farm of Gurgaon nestled in a small village known as Bahora Kalan. It is sought after day-outing destinations for family, youth and corporate. The major attraction lies in its polyhouse which grows a wide variety of pretty colorful flowers. The best place to bring your kids as Ariisse Farm focuses on improving the mental ability of kids by giving them beneficial activities. If your kids are crying for a day trip, take them to Ariisse Farm where they can marvel the nature.
Damdama Lake the coming together of the Aravalis and the lake
Famous for the attractive sightseeing in Sohna, Damdama Lake is the largest Natural Lake in Haryana. The major point of interest lies in the panoramic view of this beautiful lake with the stunning Aravali Hills. This is a romantic place for the pairs of girlfriend and boyfriend as they get an adorable ambience to lean on each other's body. This peaceful environment also hosts many thrilling activities like rock climbing, valley crossing, Tarzan Swing and thus making it an alluring destination for adventure too. It takes 63 km from Delhi to arrive at this majestic place. With nearby luxury to economical resorts and farm houses, it provides the cozy arrangement for everyone. If you are seeking for a natural environment along with refreshing lake site, then you must go for Damdama Lake.
Another attractive option available near Damdama Lake is Blue Camp. It is the perfect place for business professionals, families and students. Students must visit this place to be in direct contact with nature. It is a very relaxing place. The lovely sight of this campsite with blue camps under blue sky is spectacular. Funfilled activities and bonfire in the winter night is mesmerizing. The winter of December must be celebrated here in this scenic environment. Blue Camp is a must visit place especially in winter.
Engage yourself in some light-hearted pleasure for the weekend in Noida
Escaping somewhere for a break, even if it is for a day, is very important during the weekends. A relaxing and fun-filled weekend can charge you with the energy and gets you going all through the week. And if you are from Noida and planning for a day picnic near Noida, here are some suggestions for you.
Enjoy fun-filled Desi rides at Village Adventure
If you are planning something fun for the weekend in Noida, then village adventure is your one-stop destination. The place is packed with complete look of village so all can enjoy and take a break from their hectic modern life style. It also includes with variety of exciting games and food courts to satisfy your hunger pangs. It is an ideal destination to hang out with the family for the weekend and being a water baby for a day.
Relaxing weekend getaway spots near Delhi
Living according to a busy schedule in a city like Delhi drains one of his energy and will to work. To ensure that your mind and body functions equally well, you should always take a break for the weekend to refresh your mind. There are lots of spots for day picnic near Delhi, for relaxing getaway this weekend. Just few hours drive from the city, where you can spend time relaxing and enjoying the beautiful nature. Along with that you can also take a tour within the wildlife sanctuary, you might get lucky enough to encounter tigers. A tour within the sanctuary will give you a view of the birds and beasts of the wild forests and the beautiful lakes that are hidden within. Asola Bhatti is a wildlife sanctuary located at a distance of approximately 27 km from Delhi. Surrounded by the majestic Aravalli range, Asola Bhatti is the abode of a variety of wild animals and birds.
Some of the famous destinations in all nearby locations to Delhi, you can visit to spend an exciting weekend with colleagues or family.
Family of Kingdom, Faridabad
The perfect picnic spot near Delhi with the perfect name 'Family of Kingdom' lies in Faridabad. One of the top things to do here is rock climbing, spider web and other adrenaline pumping activities. Family of Kingdom is a soothing place presenting village like setting with a touch of modern beauty. Sitting in the ethnic wooden 'Charpai' and eating gives you great sense of pleasure. If you are in Delhi NCR, you must visit this place to have your enjoyable shortbreak.
Activities that you used to play when you were in your village are all conducted with a great fun in the lovely outing place Lohagarh Farm near Badshahpur in Sohna Road. This beautiful farm of Gurgaon offers a divine atmoshphere of village. Food courts are also attached giving the mouth watering delicacies to all its visitors.
Family Picnic Near Gurgaon For Youngester
INR 1500/ + Taxes Per Person For Adults Per Day
INR 1100/ + Taxes Per Kids Per Day
Weekend Getaways in Noida
Noida also offers best places to have your pretty fun loving shortbreaks.
Enjoy Fun-filled Desi Rides at Village Adventure
The village Adventure of Noida is a mind blowing weekend getaway. It is packed with complete look of village and gives a rejuvenating thrilling break to everyone from their hectic life. It also includes exciting games and food courts to satisfy your hunger pangs. Village adventure is a suitable place to hang out with friends and family and playing as a water baby for a day.
Ananta Group Pvt. Ltd. Plot No.2 1st Floor, street No.7 A Block West Sant Nagar Burari Landmark- Rani Public School Delhi- 110084 Email id – info@anantagroup.com Mobile no – +91-9999044632 , +91-9899537060