REPUBLIC DAY TOUR PACKAGES IN DELHI
More than 50% of people don't know that 26th January, 1930 was actually celebrated as the Independence Day of India. This is because it is the day when our freedom fighters and great leaders decided to get Purna Swaraj or Complete Freedom. After getting independence on 15th August 1947, our leaders wanted to make 26th January memorable. Therefore after three years on 1950, they started to celebrate Republic Day on this date. Delhi the capital city celebrates the biggest parade on this auspicious day. Every Indian citizen must witness this grand ceremony once in their lifetime.
People living in Delhi are the most blessed ones to grab the yummiest juice out of this patriotic day. This year Republic Day is held on Friday. Since Republic Day is a national holiday, either book tickets for the parade ceremony at Rajpath or backpack for an amazing Republic Day Long Weekend Getaway near Delhi.
There are tons of attractive destinations for choosing a perfect weekend getaways near Delhi. Many beautiful places near Delhi within 200-300 km can be your picture perfect destinations. India has a great diversity and to understand that you need to travel around it. Paying a visit to the charming places helps us to think out of the box and making a trip to such wonderful places near Delhi at the auspicious Republic Day Weekend fills your heart with full of patriotism. Here are some Republic Day Long Weekend Getaways where you can taste the mixed flavors of our Hindustan which is the most adorable country in the world.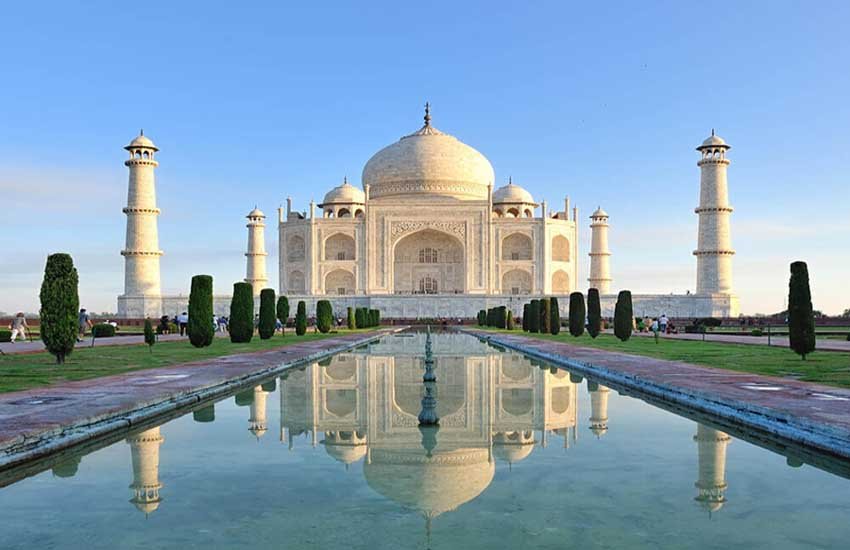 Only at a distance of 273 km from Delhi, Agra is the most charming city of Uttar Pradesh and is popularly known as the Mughal City giving you the historical smell of Mughal Empire. Proud to house the wondrous Taj Mahal, People visiting India don't leave without traveling to Agra. Other than Taj Mahal, the top tourist places like giant Fatehpur Sikri and beautiful red stone monument Agra Fort also draws large attention. Agra ka Petha is the famous sweet in the whole country made out of white pumpkin. You must taste it and package it for your friends and neighbors. Taj Mahal in Moonlight gives unforgettable views.
Nearest Railway Station to Agra: Agra Cantt
Nearest Airport to Agra: Kheria Airport (AGR)
Fastest Bus from Delhi to Agra: UPSRTC with bus amenities like wifi, water bottle and blankets.
MATHURA
Mathura is the best religious place near Delhi within 100 – 200 km. We have enjoyed watching and reading all the Krishna Stories at our young age. In Mathura which is the birthplace of Lord Krishna, We once again get captivated by the site of several beautiful temples which narrates the fascinating stories of different phases of the life of Krishna. Gokul (approx. 10 km from Mathura) which has witnessed the childhood of Krishna is the top tourist destination. Barsana (approx. 42 km from Mathura) houses spectacular Radharani Temple. A dip into the holy water of Yamuna is very rejuvenating.
Mathura houses the purest charming town known as Vrindavan which is popular for its enchanting Prem Mandir or Love Temple and the sensational evening Aarti at ISCKON Temple. One must visit Love Temple at evening when it changes its color. This gives a magical view.
Mathura is one of the seven holiest cities of India. Republic Day Long Weekend Getaway to Mathura takes you to the history of lords.
Nearest Railway Station to Mathura:  Mathura Junction
Nearest Airport to Mathura:  Kheria Airport (AGR)
Fastest Bus from Delhi to Mathura: UPSRTC with bus amenities like wifi, water bottle and blankets.
Rishikesh is the top pilgrimage city of Uttarakhand and it has received the recognition of being a Yoga Capital of India. Yoga has been originated in our motherland and it is sad that instead of Indians, foreigners are taking more advantages from this healthiest tool. So it is advisable to make Rishikesh your Republic Day Long Weekend Getaway in order to refresh your mind and body from all the stress. It has various ashrams among which Parmarth Niketan is the biggest one. The top sightseeing in Rishikesh includes Laxman Jhula, Gita Bhawan, Ram Jhula, Neelkanth Mahadev Temple and Rajaji National Park. White water rafting and camping in Rishikesh have no words to describe. They are awesome.
Only at a distance of nearly 20 km from Rishikesh lay another top pilgrimage city Haridwar where if you plan to visit, you must witness its evening Aarti. Rishikesh is among few top destinations which holds everything to satisfy its visitors.
Nearest Railway Station to Rishikesh: Haridwar
Nearest Airport to Rishikesh:  Jolly Grant Airport at Dehradun
Fastest Bus from Delhi to Rishikesh: UPSRTC with bus amenities like wifi, water bottle and blankets.
DHANAULTI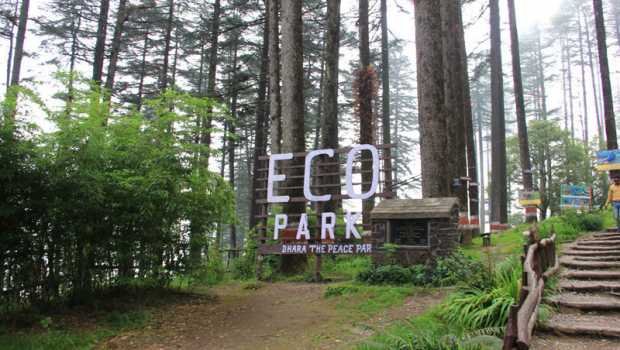 If you have already stayed in the hill stations of Uttarakhand such as Nainital, Mussoorie and Dehradun, then this time you must plan to visit Dhanaulti which is located between Mussoorie and Chamba. Dhanaulti though a small hill town can make your hilly tour a perfect one. From here you can get the mesmerizing vistas of mountains, trees, sky, birds and the whole creation of Mother Nature. The top sightseeing places of Dhanaulti are Potato Farm, Eco Park and Surkanda Devi Temple.  The best way to enjoy your weekend in Dhanaulti is by camping and indulging in the adventure activities. One of the best camping resorts is Camp Awara. It is the top adventure camp nestled in the perfect alluring location covered by mountains. The adventure activities like trekking, valley crossing, commando net, flying fox, Burma Bridge and more than this drum up great enthusiasm. This is the nest destination to chill out and marvel the hill side fun of country.
Nearest Railway Station to Dhanaulti:  Dehradun
Nearest Airport to Dhanaulti: Jolly Grant Airport at Dehradun
Fastest Bus from Delhi to Dhanaulti: Kashmere Gate-Mussoorie-Dhanulti (No direct bus)
Weekend Getaways from Delhi without Jaipur is incomplete. It is the capital city of Rajasthan which holds the largest tourism in India. The pink city is amazingly beautiful and is one of the best places near Delhi within 200 – 300 km. The reason behind why it will be your best Republic Day Long Weekend is that Jaipur was constructed on the basis of Vastu Shastra which is the traditional Hindu architecture on the supervision of Raja Jai Singh who was a lover of mathematics. Therefore Jaipur is the first planned city of India. Here you can enjoy sightseeing of Hawa Mahal, Jantar Mantar, Albert Hall Museum, Amer Fort, Nahargarh Fort etc. Taste Rajasthani Thalis, stay in Royal palaces, enjoy the Desert Safari and much more. Jaipur is a marvelous destination for family, couples, corporate and backpackers.
Nearest Railway Station to Jaipur:  Jaipur Junction
Nearest Airport to Jaipur:  Jaipur International Airport
Fastest Bus from Delhi to Jaipur: RSRTC
MANESAR
Manesar in Gurgaon is one of the top industrial hubs in Delhi NCR. It is located on the Delhi-Jaipur Highway. Though it is home to several big companies, Manesar has beautiful landscapes comprising of lush green environment and a peaceful atmosphere. Away from the clattering cities, spending weekend in one of the resorts or farm house in the scenic areas of Manesar is very relaxing. Manesar is the best destination for group of corporate to release all their stress.
Nearest Railway Station to Manesar:  Gurgaon
Nearest Airport to Manesar:  Indira Gandhi International Airport
Fastest Bus from Delhi to Manesar: DTC
So this Republic Day, go for a day long vacation to grab the fun out of best places of our country.
For Booking Call –   +919899537060
Republic Day Special Picnic Packages
Ananta Group Pvt. Ltd. Plot No.2 1st Floor, street No.7 A Block West Sant Nagar Burari Landmark- Rani Public School Delhi- 110084 Email id – info@anantagroup.com Mobile no – +91-9999044632 , +91-9899537060