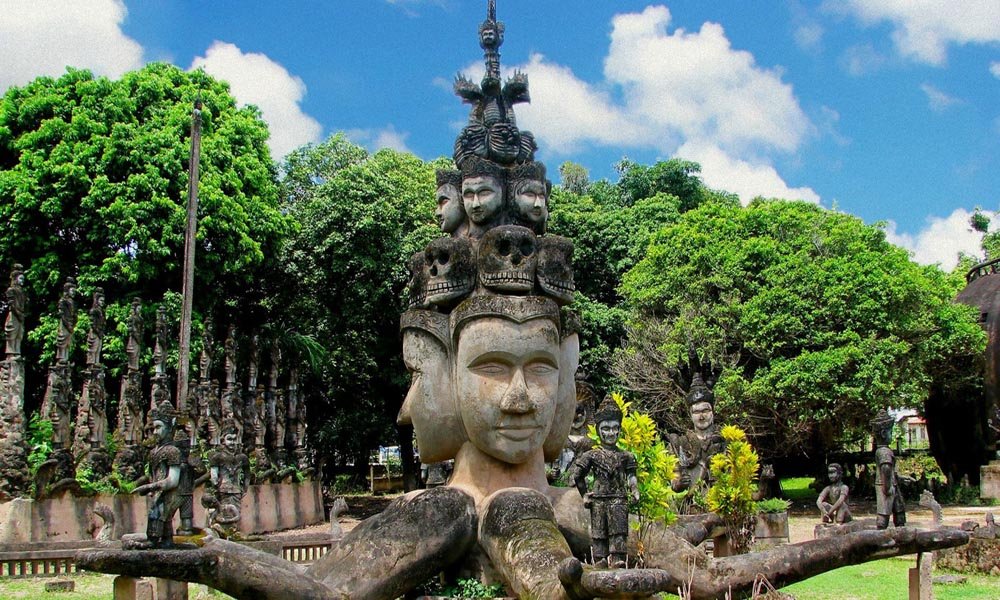 SRI LANKA- THE LAND OF TEA GARDENS
I know you are aware of the country Sri Lanka. But still if you are not aware, then you must remember the word, 'Lanka' which is written in the Hindu Epics of the Ramayana which was said to be the island fortress capital of the legendary ruler Ravana, the ten-headed demon king and a great devotee of Shiva. It is believed that the site of Lanka is identified with Sri Lanka. The island country in South Asia in the Indian Ocean is known as one of the largest producer of tea in the world and its Pure Ceylon tea is among the finest teas in the globe. Most of the tourist comes from India to visit this place. Being the most ancient country, it preserves large number of pre-historic, proto-historic and historic monuments. So if you want to see the splendours of this country, you must visit this place. It was also described by Italian explorer 'Marco Polo' as one of the 'finest island of its size'.
PLACES TO VISIT IN SRI LANKA
Yala National Park
Sri Lanka has abundance of national parks and the Yala National park is the most visited and second largest park in Sri Lanka. It is an ancient abode of the largest number of leopard. 44 species of mammals and 215 bird species share their lives here. Tourist with curiosity to explore and learn, come here and make themselves aware with the wildlife and the lost civilizations. Gaze at beautiful birds and enjoy beach walks.
Dambulla Cave Temple
The oldest and fascinating Royal rock temple in the southern part of Dambulla is a complex of five adjoining caves comprising 150 phenomenal statues of Budhha with standing positions and slightly lazier sitting positions. Being the first holy place to design Budhha images over 2000 years ago, it is the most spiritual destinations of the country. The ceilings of the temple are covered with beautiful paintings telling the story of Buddha. Sitting about 160 m above the road, you can have the best view of the countryside from these caves. This temple still worships almighty Budhha. You must take off your shoes and cover your knees and shoulders and be respectful.
Sigriya
One of the historical monuments of Sri Lanka, Sigriya is of great value. The locals call it as the Eighth wonder of the world. It is an ancient palace with fortress complex settled 370 meters above the sea in a rocky plateau known as Sigriya Rock Plateau between the towns of Dambulla and Harbarane. An ancient monastery turned into the Royal residence of king Kasyapa and after his death, again turned to monastery was abandoned long ago. It was designed in the form of a huge lion and the upper parts of the lion are destroyed. This monument with amazing architecture showcases Sigriya Lion claws which are so huge, Paintings on rock walls, Mirror Wall and ancient pools. UNESCO had declared Sigriya as a World Heritage Site.
Peradeniya Botanic Gardens
This is the largest botanic garden in Sri Lanka located 6 kms from Kandy. It has a brilliant collection of beautiful flower orchid which represents love, beauty, luxury and strength. It also includes royal palms, cannonball fruit tree and 40-m Burma bamboo. Giant Javan fig tree with enormous central trunk and umbrella-like canopy of branches draws the attraction of its visitors. You can see fruit bats, monkeys and romantic couples. After walking around the gardens, you can head towards the cafeteria inside the grounds serving western and Sri Lankan food.
Sea Turtle Farm and Hatchery
After the disastrous tsunami in 2004 that hit Sri Lanka in a great extent has not only killed large number of people, but huge number of turtles were also died. People who eat turtle also contribute in its decreasing number. So keeping the possibility of the extinction of turtles, a non-profitable organization named Sea Turtle Farm and Hatchery is formed and it is working for the survival of sea-turtles for the next generation. It is situated in Habaraduwa in Galle district of Southern Sri Lanka. It opens daily.
ART & CULTURE
Sri Lanka embraces the modern elements with traditional customs. People from different religion live here. The most prominent religion is Buddhism, the religion of becoming aware. The country in the southern tip of India also includes Sri Lankan Tamils in large number.
The Sri Lankan women wear Sari and men wear Sarong which is a long piece of cloth that is wrapped around the body. The people of Sri Lanka mostly eat Fish Curry with mixed rice. You can taste the world's best curry here. Sinhalese ethnic group is the largest in Sri Lanka and so Sinhala is the most spoken language here. Sri Lankan people are very warm and friendly and their hospitality is never denied. They are always ready to greet their visitors to their homes.
Sri Lankan celebrates Esala Perahera which is a grand festival in Sri Lanka occurring in July or August in Kandy. It is a Buddhist festival where people dances in elegant costumes with highly decorated elephants.
Music of Sri Lanka has been greatly influenced by Indian music. Traditional folk music, local drama music such as Kolam, Nadagam, Noorthy, Hindustani Classical music, Tamil Music, Western music, Sinhala light music are the seven categories of music. Kandyan Dance is famous in Kandy.  You can visit to Colombo National Museum to know about the culture.
TOURIST DESTINATIONS IN SRI LANKA
Colombo
Colombo is the commercial capital of Sri Lanka. It is the largest city. It was a port in ancient times and has been ruled by Portuguese, Dutch and British. Top sights in Colombo include National Museum, Top park Galle Face Green which is a narrow beach and the sea where most of the time people fly kites, blow bubbles and enjoy with families; the oldest and largest park next to National Museum Viharamahadevi Park, Dutch Period Museum, Dutch Hospital, Federation of Self Employees Market, Old City Hall and Geoffry Bawa House.
Kandy
It is a large city in Central Sri Lanka on a plateau surrounded by mountains giving the refreshing scenic view. Sri Lanka is the largest tea producer and Kandy is the home to tea plantation. The most charming point of the city is its lake known as Kandy Lake where you can stroll. The grand festival of Sri Lanka is also celebrated here in the sacred Sri Dalada Maligawa. Kandy looks more beautiful when it's raining. The famous places worth visiting include Temple of the Sacred Tooth Relic, Degal Doruwa Raja Maha Vihara, Kandy Garrison Cemetery, World Buddhism Museum and National Museum, Ceylon Tea Museum.
Bentota
Bentota is a resort town on Sri Lanka's Southwest Coast. This town has a long beach known as Bentota Beach which stretches north and becomes a sandy strip which is popularly called Paradise Island. Ten kilometers inland from Bentota lies Brief Garden with the lovely ground and a perfect place to make you lost to your imagination and fantasies. On the south bank of the Bentota Ganga lies Galapata Raja Temple which preserves alluring murals and 2500 year old dagoba that is said to hold the canine tooth of Buddha's main disciple, Kasyapa.
POINT OF INTEREST IN SRI LANKA
Cinnamon Gardens
This is a neighborhood of Colombo and it is named so because there were a large number of cinnamon trees in the garden. It has become the location of the Prime Minister's Office, Independence Hall, Colombo Town Hall and National Museum. There is fine trees worth notable and elegant mansions which attracts this administrative hub.
Sri Dalada Maligawa
It is a Buddhist temple in Kandy nestled in the Royal palace complex of the former Kingdom of Kandy. It houses the relic of the tooth of the Buddha. Due to this temple, Kandy is a World Heritage site. The roof paintings are fascinating. You can see the beautiful Kandy Lake here. It is a must visit spot.
Pinnawala Elephant Orphanage
Sri Lankan people have an incredible hospitality for animals too. Pinnawala Elephant Orphanage takes care of the wild Asian Elephants located at Pinnawala Village which is 13 kms northeast of Kegalle town in Sabaragamuwa Province of Sri Lanka. It serves as nursery and breeding ground as well. It is a beautiful sight to watch a herd of elephants and observing the people taking care of them.
Leisure World Park
It is a funfilled amusement park in Sri Lanka. It has water rides, amusement activities, educational trips weddings, birthdays. It is a very good place to take your family and have lots of fun.
Vedda Tribe in Dambana
The indigenous tribe of Sri Lanka known as Vedda is diminishing slowly. So if you are travelling to Sri Lanka, you must visit this place to know about this tribe in Dambana village which is 2.5 hours drive away from Kandy. The completely remote village without any knowledge of modern world is still living here in their own traditional manner such as by hunting. You can get a chance to meet the chief of the village and learn hunting with the tribe with the help of arrow and bow. This place will take you to the very ancient time which you used to read in your history books.
THINGS TO DO IN SRI LANKA
Go for boat safari along the Madhu River near the small town Balapitiya along the Colombo Galle Highway and you will feel dazzled with the amazing stops in between.
Since you are in the largest tea producer country, you can tour a Tea Garden such as Ella Tea Garden and Blue Field Tea Factory.
Trek at Horton Plainsa as no public transport is available after the station Pattipola in the Central Province of Sri Lanka of Nuwara Eliya Distric.
Watch the whales from Dondra Point accessible from Mirissa in the south coast of Sri Lanka.
Go for Hot Air Ballooning and see the country in an amazing way.
Ananta Group Pvt. Ltd. Plot No.2 1st Floor, street No.7 A Block West Sant Nagar Burari Landmark- Rani Public School Delhi- 110084 Email id – info@anantagroup.com Mobile no – +91-9999044632 , +91-9899537060