Exhibition Organizers
Exhibition Management Companies in Delhi, Exhibition Stall Design
Everyone is aware what exhibition is all about. Many of you must have attended it too. However here is the definition.
According to Oxford Dictionary, the Definition of Exhibition is, "a Public Display of works of art or items of interest, held in an art gallery or museum or at a Trade Fair".
This is a very simple and easily understandable definition. It means any kind of product which is presented with the purpose of enhancing its utility in front of mass is the process of Exhibition.
Most of the Exhibitions are Art Exhibitions where collection of creative masterpieces is showcased and this are organized in museums and art galleries. Corporations who create their products in order to sell also exhibit them especially in trade fairs to grow their business.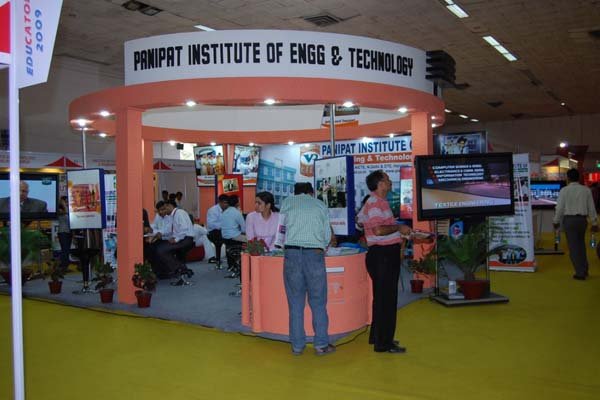 Exhibition is nothing but an event and organizing this requires a management system to plan and execute. This whole system of management is called Exhibition management and to leverage this system, countless companies have evolved to organize exhibitions for their clients.
There are number of top exhibition management companies in Delhi who are best in meeting every aspect of their clients. Most of the event management companies also look after exhibition as well. It takes place industry-wise due to which a group of companies under same niche come together and build relationship.
Organizing an exhibition is a very hectic task and a long list of equipments is needed for this. The exhibitors therefore hire exhibition management companies to take responsibility of the fulfillment of a-z requirements.
The first thing to decide during the process of organizing an exhibition is the venue. A proper venue is very important followed by setting up multiple equipments such as booth, stall (corporate and 3D), banners, display podiums, exhibition kits, catalogue stands, magnetic popup or Velcro popup, technical equipments et cetera.
To invite the visitors is also the duty of the exhibition managements companies. For managing the whole event along with taking care of every guest is done by Man Power Management. This involves group of people who are given the specific task during the exhibition.
After the exhibition, a party is celebrated between the exhibitors. Those who belongs to foreign country requires staying arrangement along with Delhi sightseeing. Those requirements are also fulfilled and it is called post event duties.
From deciding a venue to arranging a comfy stay for foreigner exhibitors is what executed by exhibition management companies under expert guidance of people like exhibition managers. Most of them are stall design and fabrication companies too.
So why to worry if a-z requirements of the exhibition is easily fulfilled by the several top companies in Delhi.
Ananta Group Pvt. Ltd. Plot No.2 1st Floor, street No.7 A Block West Sant Nagar Burari Landmark- Rani Public School Delhi- 110084 Email id – info@anantagroup.com Mobile no – +91-9999044632 , +91-9899537060