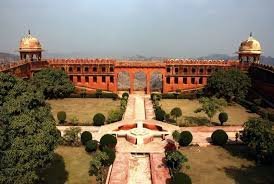 The Pink city Jaipur gains the immense attention of the visitors who love exploring ancient buildings, forts, and monuments that have great history attached to it. Jaipur is among such tourist spot where Jaigarh Fort along with other important forts remains centre of attraction. If you are exploring this city, then make a trip to Jaigarh Fort. This fort once acted as the defence system and royal treasury of Amber. The beauty of the fort still exists due to its amazing architecture, beauty, bastions, and watchtowers. The fort was constructed in the year 1726 and is of great appeal to military lovers.
The centre of attraction for the visitors at the fort is the world's largest cannon on wheels. As per history, the fort was never captured and due to this, the cannon had never been fired. The fort retains its original shape even after so long time. Visitors get an appealing view of the fort and experience the same royalty and lifestyle that existed here during the 17th century. The extreme beauty of the Jaigarh Fort can be experienced by having a clear view from the Diwa Burj watchtower.
For travellers who have a desire to watch the preserved military structured of medieval India, then this fort will fulfill their desire. The fort is located at a walking distance from the Amber fort, hence can be accessed easily. The fort is well connected with various transport means from the Jaipur city. Travelers can also hire their private taxi or cab to enjoy all the tourist spots of Jaipur. This beautiful fort can be visited during the daytime from 9 am to 4.30 pm every day. There is an entry fee of Rs. 50 per visitors. Thus, watch the ancient fort that is located on the top of the Aravali Mountain, for its beautiful Jharokha, architecture, paintings along with the clear sightseeing of Jaipur city.
Ananta Group Pvt. Ltd. Plot No.2 1st Floor, street No.7 A Block West Sant Nagar Burari Landmark- Rani Public School Delhi- 110084 Email id – info@anantagroup.com Mobile no – +91-9999044632 , +91-9899537060