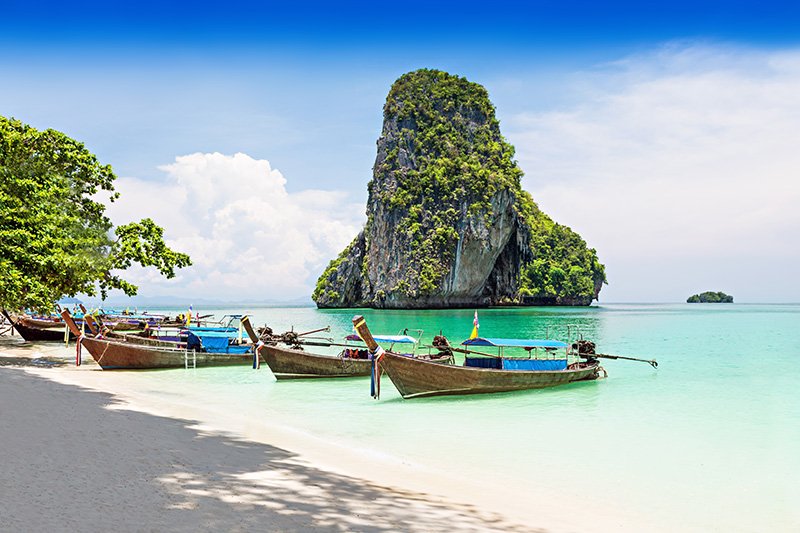 Thailand Tour Packages, Places To visit in Thailand, Tourist Places in Thailand, What to do in Thailand, Things To Do in Thailand

THAILAND – THE LAND OF ISLANDS
Achieved the independence in 1238 from Khmer Empire of prehistoric Cambodia and the only nation which was never ruled by the European country is the Kingdom of Thailand. The land with rich culture including different religions also houses more than 50,000 Hindus. Indians love to visit this divine place because they see the idol of the Lord Ganesha almost everywhere in Thailand where he is known as Phra Phikanet. The nation which innovated the new way of trading by using boat in the rivers which is now known as Floating markets are the popular touristy. The most heavily populated capital city Bangkok is unique and mind-blowing in its own way offering its visitors the world-class best traditional massages and variety of foods.
PLACES TO VISIT IN THAILAND
Grand Palace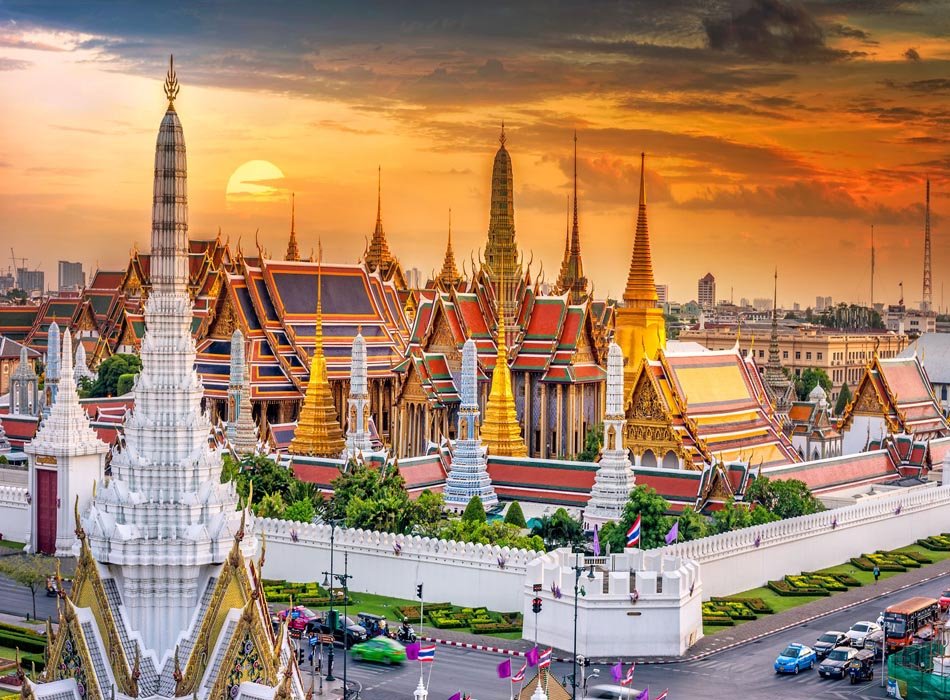 Grand palace is a multiplex of structures consisting of spectacular Thai architecture. Abode of Thai King for 150 years, this royal palace welcomes tourist from all over the world. The most captivating structure is Wat Phra Kaew or the Temple of the Emerald Budhha. The bright green idol of Budhha with yogic posture reflects meditation. Being the most sacred shrine of Buddhist, the temple allows the visitors to dress properly with no bare feet. There is a booth near the temple which provides clothes too for which they fix a charge.
Ko Phi Phi Island
An ancient small group of Island positioned in Krabi province in the West coast of Southern Thailand is Ko Phi Phi. Ko Phi Phi Don is the largest island of Ko Phi Phi while Koh Phi Phi Leh is well known around the globe as superstar Leonardo DiCaprio's adventure film "The Beach" was filmed in one of its beaches of known as Hat Maya which portrayed it as a "Secret Paradise." One can reach to the island from Krabi by ferries and speedboats. The water of the sea is always warm.  This is the heaven where travelers feel extremely blissful.
Khao Yai National Park
3 hours of traveling from the bustling capital city Bangkok takes the tourist to the first national park of Thailand which was established 55 years ago. It has been a harmonious home for several species including elephant, bears, barking deers, migratory bird etc. This is an exciting place for venturesome bikers who mostly ride alone contemplating the peaceful scenery.
Ayutthaya Historical Park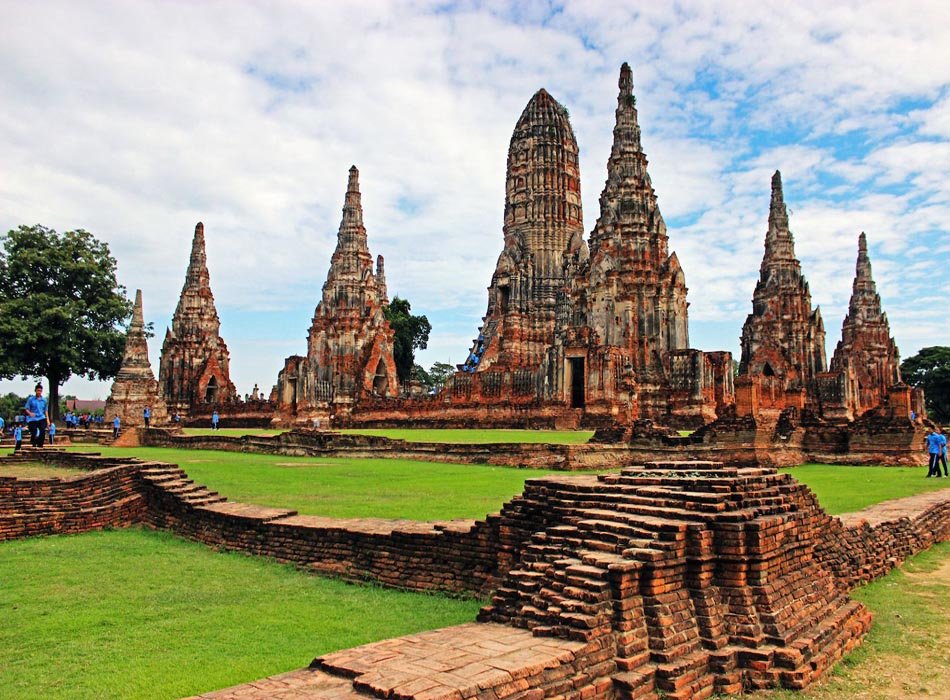 Historic Ayutthaya was the biggest and wealthiest city of East in the 16th century reported by foreign traders. It is officially known as Phra Nakhon Si Ayutthaya and is one of the central provinces of Thailand. It was burned down by Burmese army in 1767. After 202 years, the ruins were refurbished by Fine arts department and it was declared a historical park in 1976. Further it received the recognition as a UNESCO World Heritage Site in 1991. Remarkable Ayutthaya Architecture sites are amazingly beautiful to observe.
ART & CULTURE OF THAILAND
Thailand has a very modest culture. Buddhism is the main religion. Thai people have customary beliefs respecting familial and natural spirits. They built spirit houses outside their homes and presents offerings. These spirits houses are found in public places as well. The Thai greeting is referred to as Wai where they press their palm together and bow slightly towards the person they are greeting. It was originated from Indian Anjali Mudra like the Indian "Namastey".  Thai people are rude if someone touches them in their head and touches with feet. The traditional cloth of Thai people is known as "Chut Thai".
The culture and arts of Thailand is influenced by India to great extent. Thai has their version of Ramayana which is known as "Ramakien". The cultural dance of Thai is Khon which a kind of masked dance. Classical is the traditional music form. Smile is the important symbol for Thai because they take it as state of purification.
TOURIST DESTINATION IN THAILAND
Bangkok
Started as a small trading post, Bangkok when turned into capital city took the country to the high standard level in almost all fields. It is the most inhabited city in Thailand. Bangkok is also a great transportation hub. It opens the channels for various tourist places of Thailand. Wat pho or the temple of reclining Buddha is the first spot to attract tourist in Bangkok. Wat Traimit is the temple of the Golden Buddha which stores world's largest golden statue of Buddha. Another temple is Wat Benchamabophit of marble Buddha which was unnoticed for 200 years as it was covered in plasters to disguise the enemies. Spot the precious stones Gems Gallery. Take Chao Phraya River cruise and observe the lifestyle of people. Chao Phraya river is the river flowing through Bangkok and then to the Gulf of Thailand.
Chiang Mai
Chiang Mai is one of the prosperous cities in northern Thailand which dates back more than 700 years. It was once the capital of the Indianized kingdom of Lanna which was ruled by King Mengrai. Let the light euphoria come from the frontal lobe of your brain when you are roaming around Chiang Mai. There are many beautiful temples like Wat Phra That Doi Suthep, Wat Phra Singh, Wat Phan Tao and many more.
Pattaya
Only two-hour drive from Bangkok connects the tourist to the ideal place for relaxing situated in Thailand's Eastern Gulf Coast. Coral Island of Pattaya is a beautiful island of six beaches well known for its water sports like breathtaking parasailing, jet skies, underwater sea-walk and snorkeling. Have a long day trip to Nong Nooch Village which has a vast area with individually themed gardens showing daily cultural shows and Botanical Park with various species. Get yourself overwhelmed with the beauty and dance of drag queens in Alcazar Cabaret Show in Night. The drag queens are actually the ladyboys. Travel to Pattaya Elephant village, Pattaya Park, Pattaya Orphanage.
Phuket
The rain forested, mountainous island in the Andaman Sea is a dwelling for most beautiful beaches in the world. Ko Phi Phi is among the famous group of islands in the country. It is also famous for world-class scuba diving. Other than beaches, Phuket town being the capital of Phuket has marvelous restaurants. The view from the 45 meters tall Big Budhha statue is highly popular among tourists. The night life of Phuket is also spectacular.
POINT OF INTEREST AT THAILAND
Safari World & Marine Park
Safari world is a zoological park in Bangkok and it has two sections named Safari Park and Marine Park. The 45 minutes drive through Safari park gives the visitors a close-up look of different types of animals. Marine Park has four shows namely Orang Utang Boxing Show, Sea Lion Show, Dolphin Show and Bird Show. Dolphin Show is liked by majority of the people.
Phuket FantaSea Show
The biggest show in The Phuket Island with artist hanging from ropes or metals and performing animals like elephant showcasing Thai myths in an amusing manner is the most entertaining evening of backpackers.
Thai Burma Death Railway
The railway from Thailand to Burma which was formed by Japanese during World War II to supply their army is known as Death Railway as many prisoners were died in this line. Take a train from Bangkok to Kanchanaburi and the Death Railway itself to reach River Kwai. Notice the fabled bridge and take boat rides.
THINGS TO DO IN THAILAND
Spend a day in Ko Phi Phi Island and feel the paradise.
Visit the Sunday market of Chiang Mai to shop variety of goods in an affordable price.
Thailand has popular good food as Chicken Rice with Garlic Chilli sauce and Light Chicken Soup. Eat like a horse!
Go for elephant trekking.
Take a Paddle Boat to tour around Damnoen Saduak Floating Market.
Take Tuk Tuk Rides in Bangkok which is a funfilled local-like experience.
Visit Erawan National Park famous for Erawan Falls which cascades down 7 tiers.
Backpack to Chiang Mai and northern Thailand to experience the hill tribes and their culture. The hill tribes themselves guide the tourist.
Ananta Group Pvt. Ltd. Plot No.2 1st Floor, street No.7 A Block West Sant Nagar Burari Landmark- Rani Public School Delhi- 110084 Email id – info@anantagroup.com Mobile no – +91-9999044632 , +91-9899537060