OVERNIGHT DESTINATIONS AROUND DELHI
VARANASI, VAISHNODEVI, JODHPUR, SRINAGAR, PALAMPUR
Going out for a journey in night whether alone or with your family and friends is also a fun trip. You close your eyes and when you open, you find yourself in your desired destination. It is the easiest way to travel fast. Especially for girls who loves to travel alone, overnight destinations tour is the best option as you don't have to feel insecure by staying in any hotel in a new place. Travel overnight and explore your desired destination all day long. Delhi has many beautiful overnight destinations. Some of them are listed below:
Vaishno Devi : One of the top pilgrimage of North India.
The journey of Vaishno Devi takes approx. 8 hours by train and 11 hours by Bus. You arrive at Katra which is a small town of Jammu and Kashmir. Then you head towards 14 km long trekking for having Darshan of Mata Vaishno Devi, the great Hindu Goddess. The story behind Mata Vaishno Devi is very fascinating. The trekking is the major attraction as it takes you to the place where you can see the most revered three 'pindis' of the Mata. Devotees from all age group show their great strength during the tough walk. But the way towards Bhawan(The place where the pindis are kept) is provided with full hospitality for the devotees. From drinking water to dispensaries, you will be supplied with all the essentials. The journey to Vaishno Devi is a very sought after religious trip where you find adventure through trekking too. You find your hidden strength. This is the perfect place to have faith on Goddess and to build that on you too.
Jodhpur : Home of Giant Mehrangarh Fort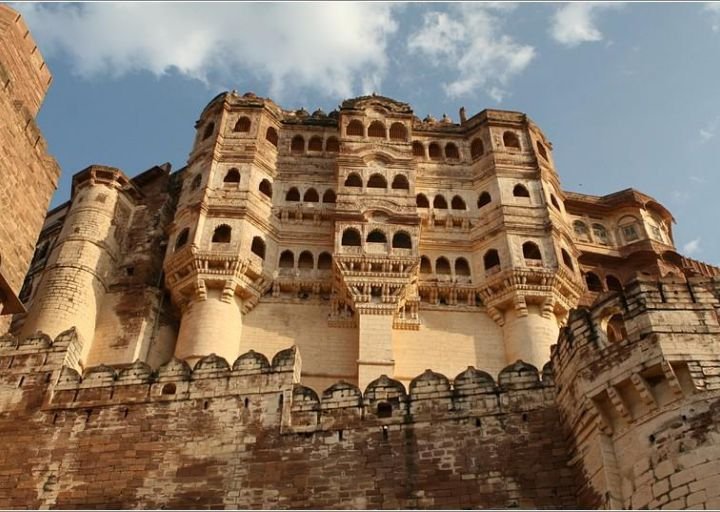 Jodhpur takes around 11 hours from Delhi by train and 13 hours by Bus. The blue city of Rajasthan is privileged to have the giant Mehrangarh Fort which is one of the largest forts in Rajasthan. You will be taken aback by looking at havelis, palaces and temples. The ancient city which dates back to 1459 AD, has modernized in a fantastic manner and so it showcases the perfect blend of tradition and modernization. The top touristy other than Mehrangarh Fort are Khejarla Fort, Umaid Bhawan Palace, Moti Mahal, Sheesh Mahal, Phool Mahal etc.
Lucknow & Varanasi : The city with Goddess Ganga
The total time of journey from Delhi to Lucknow is approx. 9 hours by train and 9-10 hours by bus. The capital city of Uttarpradesh is a city with rich culture. The people and their way of talking is very much appreciable in the city of Nawabs. The popular tourist destinations are Bara Imambara, Hazratganj Market, Lucknow Zoo, Chowk, Chota Imambara, Dr.Ambedkar Park etc. Lucknow is the gateway of Varanasi which is the spiritual capital of India. Varansi, Banaras or Kashi blessed with the river Ganga as it lies along its bank is famous in the context of Hindu religion. It houses many temples which are noteworthy. The life in Varanasi is very different. One must experience. The top places to visit here include Kashi Vishwanath Temple, Dasashwamedha Ghat, Assi Ghat, Sankat Mochan Hanuman Temple, Tulsi Manasa Temple, New Vishwanath Temple in BHU(Banaras Hindu University).
Srinagar : The charm valley of J&K
An overnight jouney of Delhi to Srinagar takes around 15 hours by train. You have to take train from Delhi to Jammu and then you again start a five hour journey from Jammu to Srinagar. Quite long and tiring, but the Srinagar as everybody knows is no lesser than a paradise. This is the perfect overnight destination with snowcapped mountains and a colorful view of the natural valley of Jammu & Kashmir. Spending your weekends in houseboats full of pretty flowers with fascinating fragrances makes you feel ecstatic. Boating in Dal Lake is so mesmerizing. Strolling around Mughal Gardens takes your brain to the wonderland of imaginations. The famous Shalimar Bag, Nishant Bag are also top spots in Srinagar. Enjoyable Shikara Ride and Char Chinar is spellbinding.
Palampur : The touristy that teaches pottery
The very alluring town of Himachal Pradesh is 10 hours away from Delhi if you take railway track and if you travel by bus, then you arrive at this pretty town within 13 hours. The beauty of the town lies in its magnificent lakes and mountains. Palampur is widespread for its top quality tea too. So if you choose Palampur as your overnight destination, visiting its lush tea garden is a must do activity. Some of the top places worth contemplating are Neugal Khad, Tashi Jong Monastery, Saurabh Van Vihar, Baijnath Temple etc. Andretta Pottery is the centre of learning clay pottery-making. To indulge yourself in this art is very soothing. When you bid farewell to Palampur, you will be taking this skill with yourself. Palampur is the perfect place for attaining the state of mental peace and living in the moment.
Ananta Group Pvt. Ltd. Plot No.2 1st Floor, street No.7 A Block West Sant Nagar Burari Landmark- Rani Public School Delhi- 110084 Email id – info@anantagroup.com Mobile no – +91-9999044632 , +91-9899537060